Sick and tired of feeling overweight and out of shape?
Lose the love handles, the excess body fat around your tummy butt and thighs.
Sculpt your arms and back and turn back the clock with professionals who have done it themselves
Your fully structured personalised training
& nutrition program with ongoing support and motivation.
Overcome your lack of motivation.
Conquer your emotional eating.
Work around your old injuries.
Stop feeling older than you really are.
Too busy? Not a problem, all you need is a small handful of hours per week!
Welcome to the Aging Backwards Project
The Premium Online Transformation Program for people who are serious about changing their life.
We've been featured in and on...
"I started working with Janine after not taking very good care of my health. I've lost 13 kgs in the first 12 week program and I couldn't be happier"
When I first started I admit I hated it! But the more I persisted the easier it became and the results are definitely worth in the long run.
Janine and Archie have helped me learn how to do it slowly and safely. I'd totally recommend them for anyone else who wants to get to a point where they're healthy, happy and being the person they really want to be!"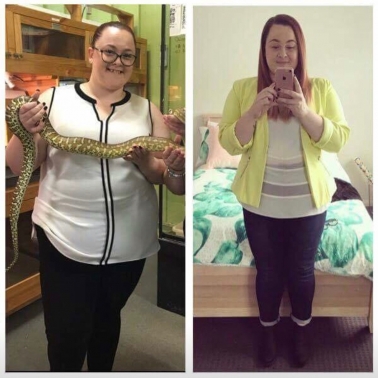 "I used to be very fit however I had let myself slip dramatically. It was in a one on one session with one of my senior managers where the topic of my health was raised and the boss gave examples of other successful people he'd worked with that had dropped dead of a heart attack at age 45. So this was the wake up call I needed."
I admit that pure laziness and an interstate move are excuses I've used for putting on so much weight in a short amount of time.
Working with Janine and Archie I've learn't how to make tasty delicious meals without feeling deprived or like I'm on a diet.
.
I'm able to train for just a small amount of hours per week and still get great results. I've lost 16kgs in my first program.
"I started working with Janine and Archie because I knew that it was now time to get fitter and stronger. My extensive travel regime both nationally and internationally meant long flights and ordinary food with little exercise. My father passed away 20 months ago aged 70 years from a heart attack and carried weight around his stomach. I didn't want to be the next statistic ! I now incorporate fitness 4-5 days per week and I've learn't ow to eat for results that are sustainable. "
I used to miss breakfast and found it hard to not eat junk food. Now I am eating 6 times per day, packing meals to take to work and can easily say no to foods that are not going to get me closer to my goals. Exercise has become a habit that I crave and not a chore.
"When you focus on optimum health the results are astounding!"
I started exercising when I was 45 and I'm 52 now but I've never really known how to fuel my body for now and in the future.
My goal is to work on my strength, increase my nutritional IQ and to live a long, healthy, disease free life as I get older.
The upside of focusing on strength and health is that I've actually got leaner without even really trying! It was not my goal but hey it's a bonus.
I've started to eat more often (5-6 times per day), I'm consuming less processed/bonus foods, I'm eating more protein and vegetables with all my meals, I now know what fats to include and which ones to cut out.
I'm lifting heavy weights that I now realise need to be the cornerstone of any training program if you want to live long, strong and turn back the clock.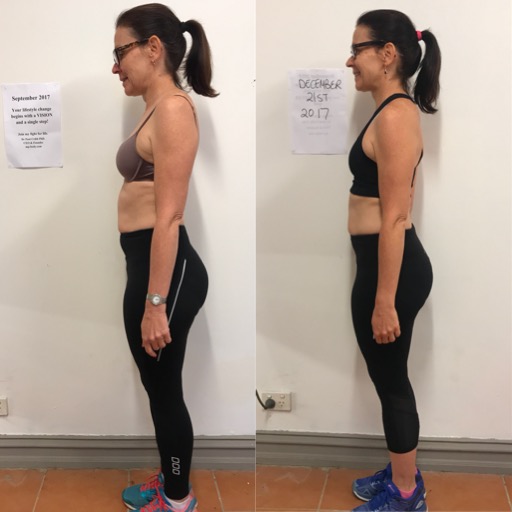 "I've always had passion for fitness and completed my PT certification 12 years ago. I haven't been working in the industry as my career in Design had taken off . Being a single mum and working fulltime I found it hard to stick to a routine"
I started working with Janine and Archie in 2015 completing inhouse training (FIRE and ICE) but it wasn't until I started working online with them and learning how to eat for better results my body started to really change.
Having to be accountable to someone, tracking my daily food intake and getting the support and feedback I need has made a big difference.
To be honest I love the program so much I decided to leave my career in Design and take up a role as a PT fulltime.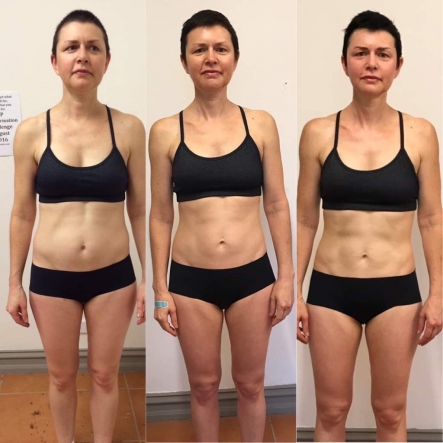 If you've struggled with maintaining your ideal bodyshape after having children and you want to feel and look fabulous.
If being a Mum/Dad leaves you feeling like you have no time for exercise and you've gained a lot of weight.
If your hectic work/family life leaves you feeling zapped of all your energy and you feel like you've got no time to look after yourself well then it's time to work with people who have walked and still walk the same path as you.
Permanent, sustainable and healthy weight loss.
For a fraction of the cost of a Personal Trainer, you too can have access to the methods we use to maintain a healthy, strong, athletic bodyshape and still be able to keep up with our busy work/family life. It hasn't been easy but we're proud to say we've kept our results and are looking to help someone just like you change your life.

When you sign up to our exclusive coaching program, you are given the hands-on and personalised guidance that has been proven to work for real people just like you from all walks of life.
Let us help you lose the weight, shape your body the way you want it to look and keep it. No more dieting that leaves you feeling like a failure, no more wasted expensive gym memberships, no more high and lows with your motivation.
When you join our team, we promise you that we will:

Design a training program that suits your busy schedule

Design a training program for your needs, regardless of injury or limitations

Educate and empower you to make food choices that you enjoy, can sustain and will help you lose weight

Surround you with a support network of people just like you on their own journey to keep you engaged and motivated

Be there every step of the way to answer your questions and support you
Our customised online training programs are comprehensive and holistic in approach, and include the following services:
This program is guaranteed to help you create your best body shape!


Healthy Meal Construction Guidelines
Personalised Training Program with Videos


An initial Skype consultation to allow us to assist you in identifying any potential limiting factors outside of your training as well as set short and mid-term goals for you to aim for.
A 12-week personalised training program with tutorial videos based on your schedule and limitations.
Together we build a weekly meal plan based on your requirements to maximise your results.
No silly PDF files or spreadsheets to follow, you get REAL week to week live coaching and feedback.
Access to our private Facebook group for extra motivation and support.
Our personal email for the ultimate 24/7 email support & guidance.
A beautifully presented manual complete with Metabolic Priming, Metabolic Nutrition Timing, The Metabolically Precise Meal Construction System, The Kitchen Makeover System, The 10 Point Exercise System, Over 50 Ways to Eat to leave your blubber! How to monitor your plan without counting a single calorie!
The MP Cookbible gives you over 175 gourmet-quality recipes that optimise health and fat loss results.
Turn your car or phone into a mobile university! Learn the Principles of Success, the steps to creating a great plan, how to nutritionally accelerate recovery after exercise, boost energy during workouts and trigger rapid changes in body shape.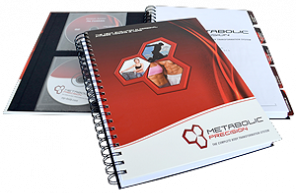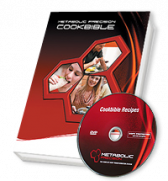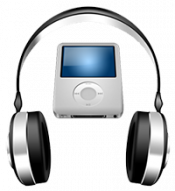 "The truth is I never liked going to the gym. In my teens and early 20's I was to afraid of joining a gym as I didn't know what to do when I got there so I would just do aerobics videos in my bedroom"
I finally struck up the courage to join a gym at 26 and two years later I changed careers and became a Group Fitness Instructor. I was teaching lots of group fitness classes and I thought that I would maintain good health and gain an amazing athletic body but I struggled to get the results that I wanted.
15 years of teaching Group Fitness lead to lots of injuries and burnout. I finally reached my snapoint at age 42. This is when I decided I needed to change as I was hating what I was doing. I' d completely lost my passion for it and wanted to find a better way to get and stay in great shape for life.
I also wanted to connect with people on a different level and help them achieve their physique goals without spending hours at the gym going nowhere!
Now I'm 47 years old and married with 3 children (14, 12 and 8) to look after it's even more important that I look after myself too. Mum's tend to put themselves last and put everyone and everything else first.
We lose our sense of self , who we are and what we want for ourselves.
It's time we Mum's changed that !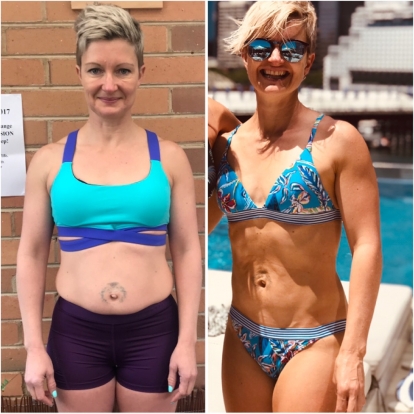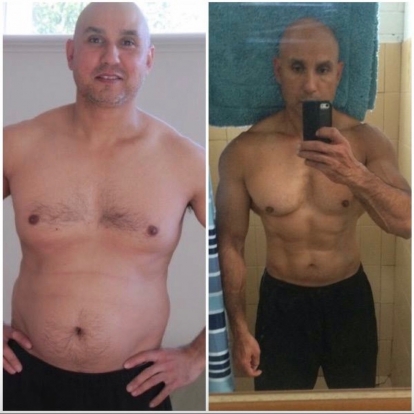 "I've always loved sport and training in the gym. My Dad took me to the gym when I was 14 years old and showed me the ropes so to say"
Weight lifting, Athletics and living a healthy lifestyle has always been a passion of mine so I became a PT at aged 32.
I started my own business and like most small business owners the hours are gruelling, there's not a lot of sleep or down time and I slowly started to let myself go.
Suddenly my own health was not a priority as I was working on the business to support my family, not really caring about how I looked, what I ate, if I did any exercise and basically put myself last.
It wasn't until I saw myself in the mirror, my clothes weren't fitting me anymore and I was hiding my pot belly under big t-shirts that I realised I had let things go too far and I had to do something about it.
Register Your Details Right Now To See If Our Program Is Right For You
"So many people spend every day feeling awful about themselves, believing they're stuck in an overweight, unhealthy body forever...it doesn't have to be that way!
Let us help you change your life..."
About Janine and Archie...
Married Couple for 16 years, parents for 14 years, business owners for 13 years ….Janine and Archie know what it's like to be time poor, how it feels to struggle to fit everything into 24 hrs. But they've found a way to make it work and they want to show you how.
This husband and wife duo work together to help people just like you win the war against weight gain, lack of energy and motivation once and for all. They believe in leading by example and only wish to work with people who they can personally relate to as you must walk a mile in a person's shoes before you can really understand them.
"Having gone through raising a family, struggling with our own ups and downs with motivation and weight gain, we understand exactly what our clients will go through on the path to their own transformation.
We've been in the health and fitness industry a combined 34 years helping others achieve their goals. Our approach is holistic, realistic and sustainable. No need for diets, counting calories or marathon workouts.
Transforming your body and your life should be a fulfilling, rewarding and enjoyable journey not an endless slog where you feel like you have to live in the gym and be 100% strict on yourself to get a result. You don't - we've done it, you can too"
Who we are looking to work with...
The Aging Backwards Project isn't for everyone and anyone.
We're here to transform the lives of people who are truly ready to embrace positive change while saying no to bullshit excuses. If the following description sounds like you, we want to hear from you!
You've struggled with your weight for way too long




You've tried diets, gym memberships etc and nothing seems to stick or work




You constantly struggle with motivation




It feels like you just don't have the time to do this even though you really want to




You don't know where to start and need someone who has been there and done it themselves to show you the way

Be willing to commit to 12

months of accountability;



Be able to commit to 3-4 training sessions a week at your gym (we'll help you find one of you don't have one!)

Be ready to step it up and really take your transformation to the next level
We are not afraid to say no. If we don't feel that you are a good fit for us, or vice versa, we will not waste your time or ours. We know exactly who we can and can't help.
The sad truth is that 99% of people wanting to lose weight are merely "interested" - they want all of the success while avoiding the hard work. We've done it ourselves so we know it just doesn't work like that.
We only work with the 1% who are ready. Are you ready to be a 1%er?
Apply now to work personally with us to:
Eat lots of yummy food
Exercise for only a handful of hours per week
Create your own blueprint for success!
Get the results you deserve - and know how to keep them!
Get more support & motivation
Create a tailored plan for your lifestyle

Learn the tools to make it a lifestyle for the whole family
Copyright © Basil Bodies Transformations 2019